---
Recruitment
---
Graduate School with Water Studies
Contact: water@dal.ca
Date Added: Aug 21st 2012, 10:23
Water Studies is always looking for motivated Masters and PhD level students to join our team. Check out our research pages to get an idea of some of the research areas we focus on and contact us for more information!
ASPIRE-Aquatic Systems Professional training for the Restoration Economy Program
Contact: Dr. Rob Jamieson
Date Added: Jul 20th 2018, 08:48
Program Overview
The development of specific and marketable skills for the restoration economy is central to the ASPIRE program. Trainees aspire to become highly qualified professionals through participation in the six program elements.
· Specialized Graduate Courses
· Restoration field school
· Seminars
· Networking events
· Women in STEM events
Program Objectives
Through training modules, specialized graduate courses, and a mandatory industrial internship, the ASPIRE program aims to:
1. Provide theoretical and practical training in the science and engineering of aquatic systems restoration projects;
2. Develop professional skills needed to be successful in the environmental restoration sectors
3. Create networking opportunities between program participants (trainees and faculty) and personnel from industrial, governmental, and non-governmental organizations; and
4. Foster entrepreneurial skills and attitudes in HQP.
Research Interests
With funding from NSERC-CREATE, the ASPIRE program is a training program in which Masters and PhD students at Dalhousie University are encouraged to develop professional skills while contributing to the development of:
1. Treatment technologies for contaminated aquatic environmental media
2. Methods for the restoration of watershed interactions and hydrologic functioning of altered aquatic system
3. Assessment and monitoring tools for disturbed and restored aquatic systems
Upon completion of the ASPIRE program, trainees will have developed advanced technical, leadership, and business skills that are marketable to the restoration sector in Canada and internationally.
The program begins in September 2018-apply to join us today!
For full details, please visit our website: https://www.aspirecreate.org
Postdoctoral Fellow, Civil & Resource Engineering/Centre for Water Resources Studies
Contact: Ms. Tarra Chartrand, water@dal.ca
Date Added: Sep 20th 2018, 08:22
POSTDOCTORAL JOB OPPORTUNITY
POSTING NUMBER: PD-18003
POSTING DATE: September 18th, 2018
CLOSING DATE: October 15, 2018
Postdoctoral Fellow Civil & Resource Engineering/Centre for Water Resources Studies
POSITION SUMMARY: One postdoctoral fellow research position with a strong focus in environmental analytical chemistry is available in the Centre for Water Resources Studies (CWRS) at Dalhousie University. The candidate will work with Dr. Graham Gagnon and Dr. Amina Stoddart on multidisciplinary research projects related to environmental and industrial water quality and treatment. Applicants should be enthusiastic and motivated, have a Ph.D. in analytical chemistry or a related field, and have strong verbal and written communication skills. Experience with laboratory research and environmental water sample analysis are strongly preferred, with particular emphasis on the following requirements. The successful applicant will have the option to supervise graduate

students.
Requirements: • Experience with analytical instruments (liquid chromatography-mass spectrometry, high performance liquid chromatrography and gas chromatography-mass spectrometry) • Knowledge of Agilent MassHunter Software considered an asset • Experience with analytical method development • Other analytical skills (e.g., solid phase extraction) considered as assets • Expectation to write and contribute to peer-review journal papers • Strong written and oral communication skills Qualifications: Ph.D. in analytical chemistry, environmental chemistry, or a related field
Salary Range: $49,000 - $55,000
Start Date: January 1, 2019 or earliest available start date
Duration of appointment: The initial appointment will be for one year, with the option to renew for a second year.
Deadline for application: October 15, 2018
Interested parties should forward a cover letter, current CV, and contact information for 2-3 references to: Ms. Tarra Ch
artrand, CWRS water@dal.ca Only applications submitted directly to the e-mail address above will be considered.
We thank all applicants, however, only candidates selected for an interview will be contacted. Dalhousie University is committed to fostering a collegial culture grounded in diversity and inclusiveness. The university encourages applications from Aboriginal people, persons with a disability, racially visible persons, women, persons of minority sexual orientations and gender identities, and all candidates who would contribute to the diversity of our community. For more information, please visit www.dal.ca/hiringfordiversity
Funded Coastal Hydrology Graduate Student Position
Contact: Dr. Barret Kurylyk: barret.kurylyk@dal.ca
Date Added: Dec 17th 2018, 14:03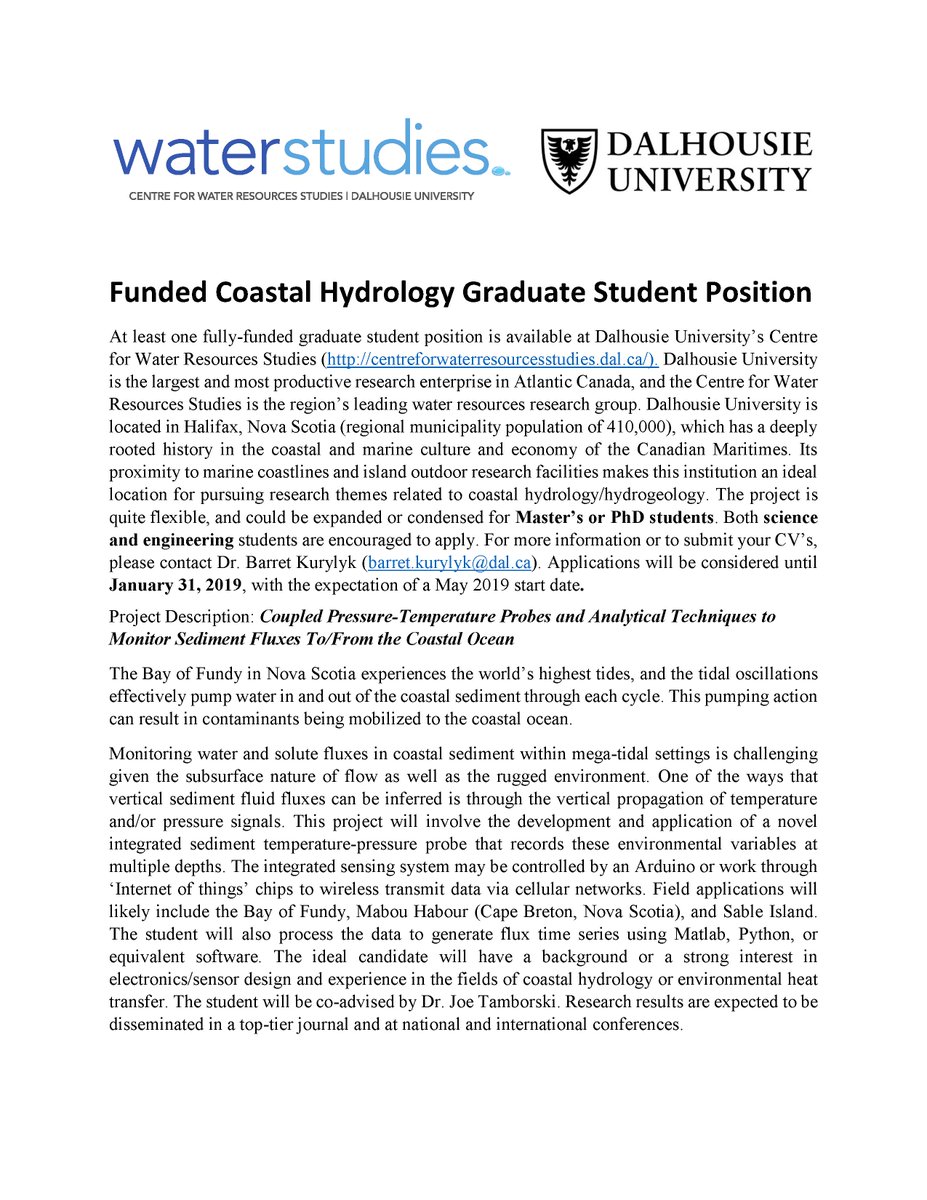 PhD Position
Contact: Dr. Barret Kurylyk, barret.kurylyk@dal.ca
Date Added: Mar 11th 2019, 15:03
Come join the exciting new international network focusing on cryohydrology, cryohydrogeology, and spent nuclear fuel storage in cold regions.
One PhD position is co-supervised by Dr. Jeff McKenzie and Dr. Barret Kurylyk.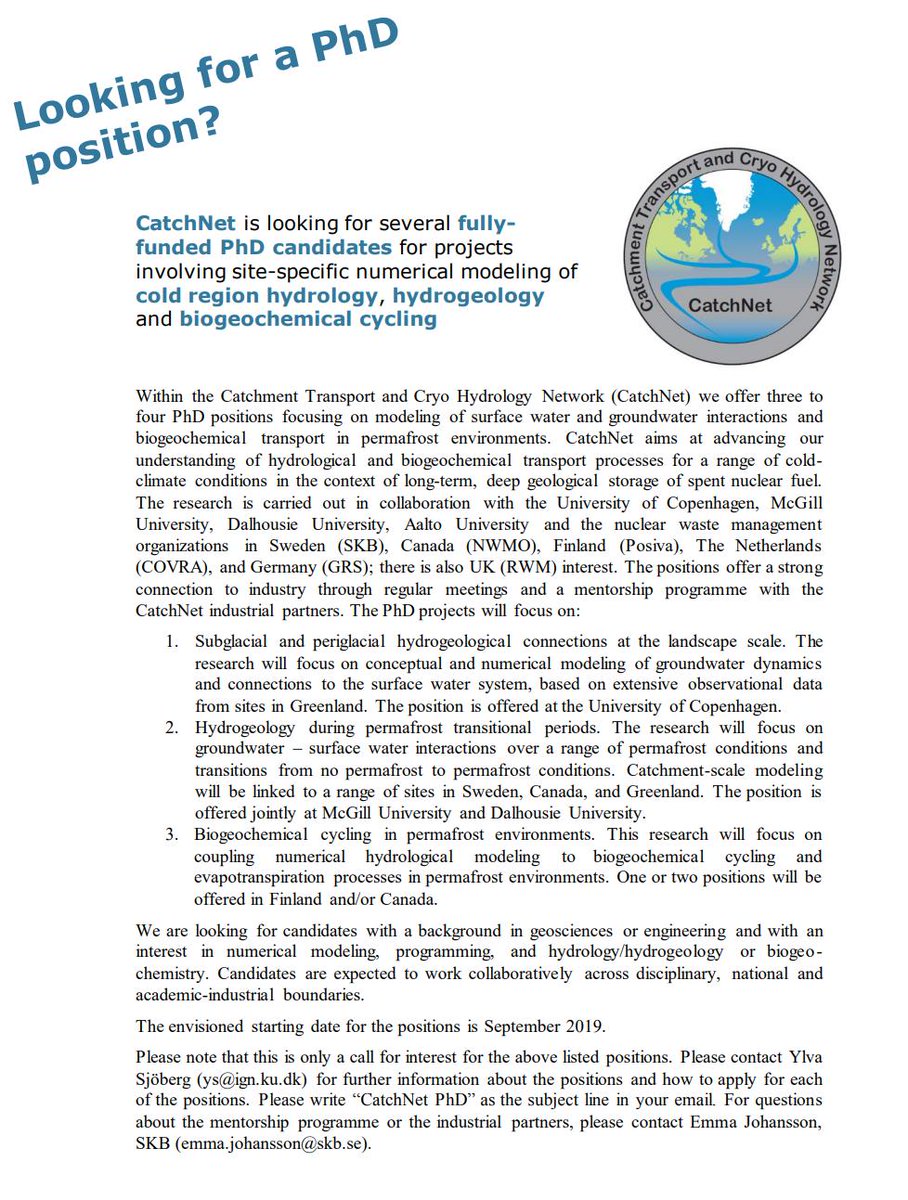 Fully Funded PhD Project at McGill University or Dalhousie University in Cold Regions Hydrology/Hydrogeology
Contact: Dr. Barret Kurylyk: barret.kurylyk@dal.ca
Date Added: Jul 23rd 2019, 08:41
Are you seeking a funded PhD project and interested in the numerical modeling of cold regions hydrology/hydrogeology?
Come work with Dr. Jeff McKenzie from McGill University and Dr. Barret Kurylyk from the Centre for Water Resources Studies at Dalhousie University and investigate how permafrost transition impacts aquifers and groundwater-surface water exchanges.
Please email Dr. Kurylyk at: Barret.Kurylyk@dal.ca or Jeff McKenzie at: jeffrey.mckenzie@mcgill.ca to apply.